Facts you don't know about Singapore
Can you predict?
Look at the following photos and try to guess what facts you will learn about Singapore today.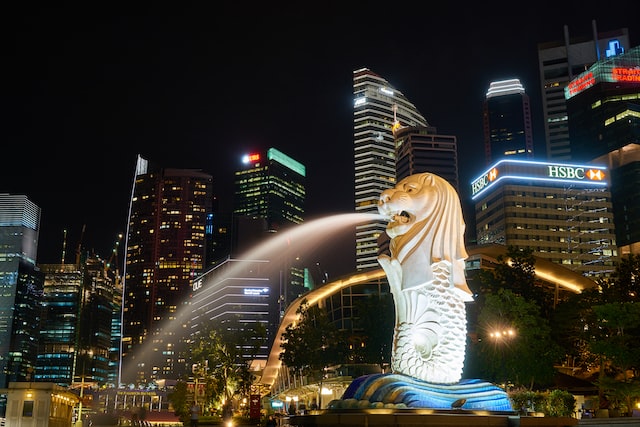 Fact 1: Lion city
Do you know what the name of Singapore actually means? Legend has it that a Prince from Palembang named the city after a fortuitous encounter with a jungle dwelling Lion. But in reality, there were never lions on the island for which it is named or in the Malay peninsula for that matter. 
Fact 2: Fines and more fines
Singapore may be known as the Lion City, but for locals, the city is also known as a mighty 'fine city'. Due to the many enforceable laws and regulations that can ensure heavy fines for non-stellar residents or unknowing tourists, including chewing gum or not flushing a toilet. 
But, it isn't just chewing gum or failing to flush toilets that can cost you a pretty penny or send you to the slammer. In Singapore you can also be fined for playing an instrument too loudly that annoys someone. Or for flying a kite or taking part in any game which can interfere with traffic (this can also include pedestrian traffic). Or $3000 for walking naked around the house, up to 3 months in jail and $1000 dollars for feeding pigeons, $2000 dollars or up to 6 months in jail for J-walking, and finally a $10,000 dollar fine and up to 6 months in jail for using someone else's WIFI.
By the way, gum is permitted only with a doctor's note for dental purposes or with nicotine to quit smoking.
Fact 3: Night-time zoo
If you happen to be a night owl, a stop at Singapore's night time zoo is a must-see attraction. The world's first ever night-time zoo is located right here! Opened in 1994, the zoo allows visitors to explore the habitat and rituals of animals under the moonlight. Why Singapore? Since the city has a tropical climate all year around, a large portion of the animals that are native to the ecosystem are in fact nocturnal; as the hot and sticky days are better for lounging around and sleeping.
Fact 4: The world's largest collection of turtles and tortoises
Danny Tang, and his collection of 3,456 specimens of lively turtles, has a spot on the Guinness Book of World Records as the largest collection of the charismatic prehistoric shelled creatures. As the world's foremost collector and tortoise enthusiast, Danny has been a fan of turtles his entire life and along with his wife Connie, the couple has been collecting tortoises for over 36 years.
So just how does a couple care for over 3,000 live animals? All of Danny and Connie Tang's live collection are housed and live in the couple's Live Turtle and Tortoise Museum operating since 2002. Here you can meet an 82-year-old-turtle. Popular among kids and families, the museum has served as a strategic way to care for all the creatures.
The couple receives tourists from all over the globe who share a passion for their lively yet timid friends. Part of the experience for tourists is feeding the reptiles. In this way, the museum's caretakers rotate which turtles need feeding, with the tourists that want to feed the turtles a piece of lettuce or a carrot. One thing to note is that although they're charismatic and friendly, the tortoises can be quite stinky! 
Information taken from a blog.
Which fact(s)?
Which fact is the most surprising to you? Record your answer.