Lesson 3. Let's eat out today!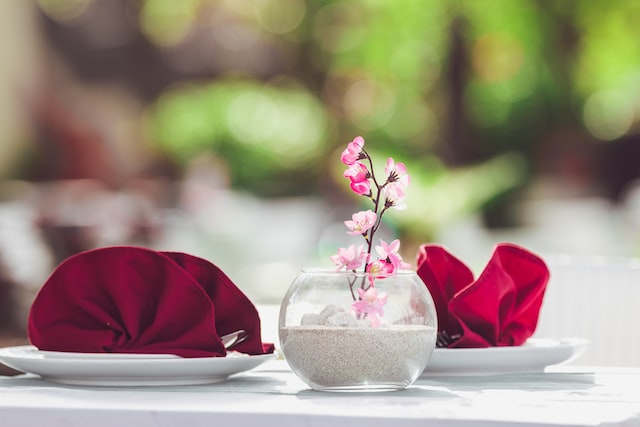 Warm-up
What's your favourite …?
kind of restaurant (French, Italian, etc.)
restaurant dish
takeaway food
How important are these things to you in a restaurant? (very important, rather important, not so important, not important at all):
the food
the service
the atmosphere
the price
How do you prefer these things to be cooked? (grilled, boiled, baked, roasted, steamed, fried):
chicken
fish
eggs
potatoes
If you eat a steak, how do you like it cooked? (rare, medium, well done)
Do you know any seafood restaurants? What is their specialty?
Do you know any fruit desserts? Give some examples. (sorbet, brulee (crème brûlée, similar to flan), caramelized fruit, etc.)
If you're doing the tasks on your own, record yourself and then send the recording to the teacher.
Task 1
Describe
Let's think about adjectives that go with the certain kinds of food. In the next exercise, decide what meat can be like. And berries? Fruit?
Answer the questions.
Do you like spicy food?
Do you follow any fashion in eating, e.g., consuming low-fat products?
How often do you buy ready-cooked meals?
Do you know any secrets to make tough meat tender?
Have you ever eaten raw fish, like sushi?
Task 2
Reading
Read and listen to the following text and then do the exercise.
Food and restaurants
Are you looking for somewhere special to go this weekend? Do you want to try something new? Check out one of these hot new restaurants.
Last Days of the Raj 
A centrally located Indian restaurant, perfect for eating before or after the cinema or a show. In summer enjoy your meal in the beautiful garden. The most popular dishes are lamb and chicken cooked with mild, medium or hot spices. For brave customers there is extra hot!
A Taste of Tuscany
Whether you'd like a great value-for-money lunch or a relaxed evening meal in stylish surroundings, this is the place for you. The chefs have all been trained in Italy and they make both traditional and contemporary dishes. We recommend the pasta and seafood.
Your Local Caff
Remember when cafés served full English breakfasts – sausages, beans, fried bread, bacon and eggs – with a strong cup of tea? Well, this place still does and you can have your breakfast at any time you like during the day while you listen to your favourite tunes from the 1980s.
The Lemon Tree
This pretty restaurant serves healthy food that's tasty too. Come in for a vegetarian snack at lunchtime or a great fruit smoothie or a cappuccino and a delicious piece of cake in the afternoon. Food is bought from local producers whenever possible.
Cheesy Bites
A restaurant that only serves cheese, but hundreds of cheeses from many countries and in lots of different forms. They serve reasonably priced lunches, but dinner can be expensive. Lovely food and a very elegant dining room, looking onto an amazing flower garden.
Fast Best
Fast food doesn't have to be junk food, as this café proves. Do you fancy a really good hamburger made with the best ingredients, or old-fashioned fish and chips fried to perfection, all on the table in super-quick time? Speed and quality are important here, and the prices aren't bad either.
The Chocolate Box
The owner of this small café used to cook all kinds of food, but then she realised she preferred desserts to anything else. If you want meat or fish, don't come here. They only do desserts! Lots of different kinds of sweets. Chocolate lovers will be excited by the range of chocolate cakes.
Musical Chairs
Have you noticed how music improves the taste of your food? This new restaurant has different types of live music every night except Sundays, and excellent food to go with it. Great fish dishes, steak and pizza. Monday is classic rock night, so see you there!
Now do the exercises.
Task 3
Let's go to the restaurant! Useful restaurant vocabulary
Read the dialogue, paying attention to the words in bold.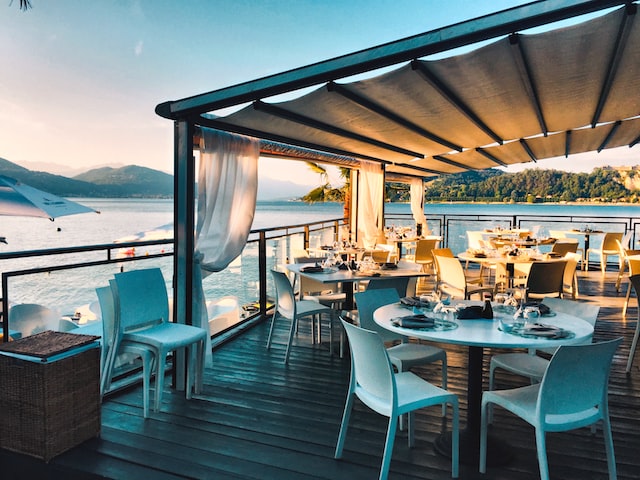 Mr. Jefferson: I would like to make a dinner reservation for two for Tuesday night.

Restaurant staff: We don't have anything available after 8.30, so I can seat you at 7.30 on Tuesday, if you would kindly give me your name. Is it okay?

Mr. Jefferson: Yes, please. We're Mr and Mrs Jefferson.

Later at 7.40.

Customer: I booked a table for two for 7pm under the name of Mr and Mrs Jefferson.

Restaurant staff: Of course. Please come this way. This table is for you, and here's your menu.

Some minutes later.

Restaurant staff: Are you ready to order?

Mrs. Jefferson: I'll have a steak with salad. Well-done, please.

Mr. Jefferson: And the king prawn soup for me, please.

Restaurant staff: I don't think we have anymore steak left, and the king prawn soup is finished too, sorry.

Mr Jefferson: Okay, any hamburgers then?

Restaurant staff: I'm afraid, the hamburgers are off too.

Mrs. Jefferson: Oh, it seems we have come at the wrong hour… Well, what would you recommend then?

Restaurant staff: Chips and fish are delicious today, lamb with a sweet sauce of pineapple, and our chef's speciality – chicken in mustard.

Mr. Jefferson: I'd prefer lamb with a sweet sauce, and you dear?

Mrs. Jefferson: I think I'll try your chef's speciality.

Restaurant staff: Perfect! Do you want anything for starter? We have a nice warm salad with beans and barbecued zucchini.

Mr. and Mrs. Jefferson: No, thank you.

Restaurant staff: May I get you anything to drink?

Mr. Jefferson: A bottle of red wine, please.

Mrs. Jefferson: And a bottle of mineral water, still.

Restaurant staff: Do you want a dessert afterwards?

Mrs. Jefferson: Yes. The chocolate mousse cake sounds great.

Mr. Jefferson: And just black coffee for me, please.

Two hours later.

Mr. Jefferson: We're ready for our bill.

Restaurant staff: Of course, Sir. How would you like to pay, cash or card?

Mr. Jefferson: By cash.

Restaurant staff: That will be $80, please.

Mr. Jefferson: Here you are.

Restaurant staff: Thank you. Here's your change and your receipt.

After the restaurant.

Mrs. Jefferson: Did you like the meal, darling?

Mr. Jefferson: Well, it wasn't bad, but could be better. The lamb was a bit bland despite having a lot of seasoning. But the wine was beyond all my expectations. What about you?

Mrs. Jefferson: Honestly, it left me cold. I think this restaurant is overrated. The dessert was really nice, though.
Task 4
Listening task
Listen to four people talking about their favorite places to eat. Are these statements true or false? There are two statements for each speaker.
Now listen again and fill in the missing adjectives. You will need ONE adjective for each gap.
Task 5
Pronunciation
Listen to the following words and repeat them after the speaker.
knife [naıf]
biscuit ['bıskıt]
salmon ['sæmǝn]
sausages ['sɒsıdʒız]
lettuce ['letıs]
sugar ['ʃʊgǝ]
yoghurt ['jɒgǝt]
menu ['menju:]
diet ['daıǝt]
Now put the words concerning food and menu in accordance with their categories.
Now listen to the sentences and write them in the boxes.
Grammar time
Present simple or Present continuous? There're six sentences in the next exercise. Choose the right option for each of them.
Which sentence is true for you?